Audi's Legendary quattro® All-wheel Drive

 

Audi quattro
Leave those curves behind…
Discover the legendary quattro® all-wheel drive system that has delivered unparalleled performance for more than 35 years. Available in all models - from the slender A3 to the robust Q7 - quattro® adds a genuine thrill every time you sit behind the wheel. 
Master the road with a gripping concept.
Audi's quattro® all-wheel drive possesses an inherent gripping quality derived from its racing lineage. Regardless of the weather conditions, this system's celebrated traction and torque vectoring technology provides absolute domination of the road.

Torque vectoring technology is the product of innovation. It delivers power to the wheels that need it most, to maximize traction and grip. So, when the weather takes a turn for the worse, Audi quattro® helps you take the turns even better.


As unique as it is effective.


While some all-wheel drive systems are a one-size-fits all, the quattro® system is uniquely fit for coupes, sedans, and SUVs. The intention behind this tailoring, is to better enhance the benefits and performance of the vehicle. So, whether you drive an Audi A3 or an Audi Q7, you'll enjoy a singular feel while driving.

It's time you experienced the legend for yourself. As they say, great things are often imitated, but never duplicated.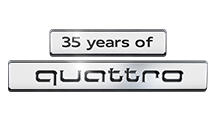 Make an Inquiry